Data shows the small cap altcoins have continued to outperform Bitcoin and the rest of the market recently as GRT has managed 117% gains in the past week.
Small Cap Altcoins Index Is Sitting At 48% Profits For The Past Month
As per the latest weekly report from Arcane Research, while other sections of the market have stagnated, the small caps have still seen an upside recently. The "altcoin indexes" here refer to groups of altcoins divided based on their market caps.
There are three main indexes in the market: the "small caps," the "mid caps," and the "large caps." These groups are based on the Bletchley Indexes and together represent the top 70 cryptocurrencies in the market (with the top 10 making the large caps, while the next 20 are the mid caps, and the final 40 are the small caps).
The benefit of dividing up the altcoin market like this is that the performance of each of the different-sized segments of the sector can be easily evaluated this way.
Now, here is a chart that shows how these indexes have performed against each other, as well as versus Bitcoin, during the past 30 days: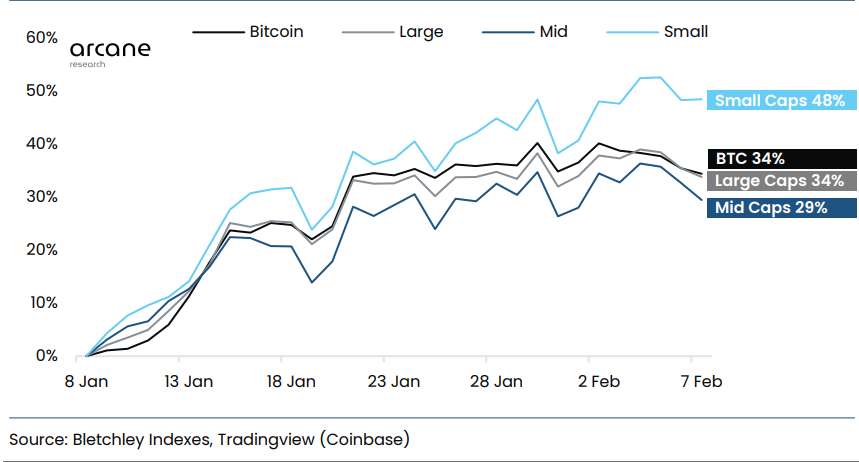 As you can see in the above graph, Bitcoin and all the altcoin indexes except for the small caps started consolidating around January 22 and have since been stuck in the same sideways movement.
Regardless of the stale price action, the market has still seen some great returns in this period as both BTC and large caps are at 34% profits, while mid caps with 29% gains aren't too far off either.
While these segments of the sector were moving sideways, the small caps still continued to see a rise. As a result, these altcoins collectively stand 48% in the green for the past month, significantly outperforming the rest of the market.
The report notes that the reason behind this outperformance is that some of the coins in this category have registered some extreme returns recently, with The Graph (GRT) being a prominent example.
GRT Has Registered Impressive Returns
The below chart shows how The Graph has performed during the past week.
Looks like the asset has shot up during the last couple of days | Source: GRTUSD on TradingView
From the chart, it's visible that GRT has observed some sharp growth in the last week, registering massive profits of around 117%. In the past day, however, the coin has noticed a correction, but the price is nonetheless still 4% up in the last 24 hours.
In terms of the monthly returns (the period being used to measure the altcoin indexes' returns), the AI token is sitting on gains of about 169%. The year-to-date (YTD) performance of The Graph is even more impressive, with the asset accumulating almost 240% in profits since the start of 2023.
Featured image from Kanchanara on Unsplash.com, charts from TradingView.com, Arcane Research